Thank you to everyone who participated in National Night Out, New Hope's Night to Unite.  There were 94 events held throughout the city of New Hope this year!  Congratulations to the group of children below who submitted the 1st place entry for the Chalk Art Contest this year.  We love the message to help keep us all safe on our bikes.
2017 1st Place Winner – Wear Your Bike Helmet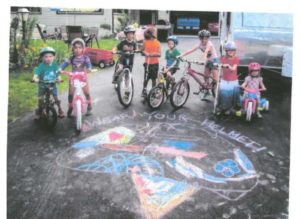 Congratulations also to LaNell Leclair (center) who was the winner of a free Ring Video Doorbell! The prize was provided by Ring for one lucky National Night Out participant.  Officer Korth and volunteer Jean presented the prize.